The Greatest Commandment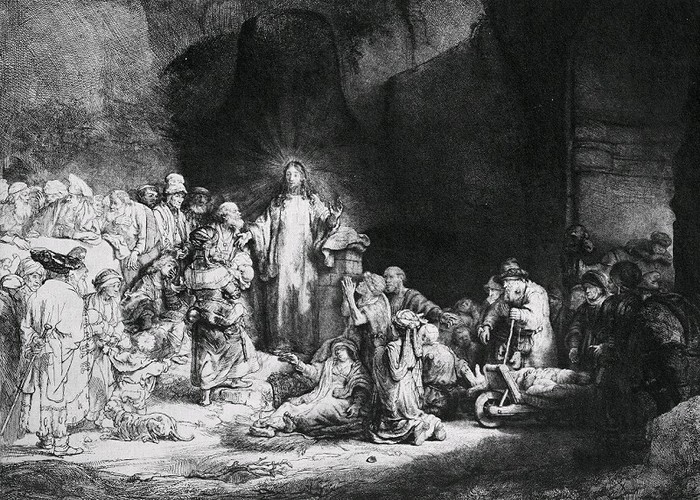 The Greatest Commandment

Many people do not know which commandment Jesus said was the greatest and most important one. Some people who have gone to church for many years do not know "the greatest commandment," and some who know it would honesty admit that they are not following it....
Knowing and fulfilling this commandment is extremely important because if we follow all of the other commandments and moral precepts and fail to keep the the most important one, we are no better off than someone who breaks many of God's commandments!
What is the greatest commandment? One of the scribes came to Jesus and asked, "What commandment is the foremost of all?" Jesus replied, "You shall love the Lord your God with all your heart, and with all your soul, and with all your mind, and with all your strength" (Mark 12:28-34). This is the greatest commandment. Loving the Lord your God with all your heart, and all your soul, and all your mind, and all your strength is more important than your family, friends, job, country, hobbies, or anything else you could possibly think of.

Many people think that it is enough to follow the second commandment, which is, "You shall love your neighbor as yourself" (Mark12:31). They think that trying to live a good life, trying to help people, and showing kindness and love to others is enough. However, if someone tries to do all of these good things (without having a love for the God who created him) he has indeed failed to keep the most important commandment of all.

Some people think that if they "love their neighbor," live decently, and don't kill anybody or steal from anybody, that that is enough for God to accept them into heaven. But what if you haven't loved God with all your heart? He is the ultimate source of all goodness and love. On the final day would you find yourself standing before him saying, "Well, I kept your other commandments, but I never kept the most important one. I never loved you with all my heart or soul or mind or strength...."

What if you realize that you have failed to fulfill the greatest commandment? Is the answer to just try harder and to try to love God with all your heart? No.... It is something infinitely better. God knows that in ourselves we are not capable of keeping His greatest commandment, or even His second commandment, that we love our neighbors as ourselves. When we realize and admit that we have fallen short, we put ourselves in the position to receive God's greatest gift, which we cannot earn.

What is this gift? The Bible says, "In this is love, not that we loved God, but that He loved us and sent His Son to be the payment for our sins" (1 John 4:10). God knew that we would be absolutely incapable of loving Him with all our heart, unless He gave us the love. So that is what He did! He loved us first, with a compassionate and forgiving love. He gave His most precious gift of love, His only-begotten Son, to take the punishment for our sins. He did this because of His great love for us. By receiving Jesus Christ as the only Lord and Savior of your life, you receive forgiveness for all of the times you have failed to fulfill God's commandments, and you receive the precious gift of God's love. This gift of God's love is something you cannot earn or deserve. You receive it by putting your trust in Jesus Christ as your Savior and surrendering your heart and life fully to Him.

When you put your trust completely in Jesus Christ, He begins to live within you and begins to pour out His love within your heart. He gives you His pure love, and then you can begin to love Him in return. The Scripture says, "We love Him, because He first loved us" (1 John 4:19, KJV). As you open your heart and receive more and more of God's love, you will love Him in return, not because you have to, but because you want to. In addition, you will be motivated to follow God's commandments with a pure motive of love for God. God will guide your life and will show you His love in many real ways, until loving Him becomes the most natural thing in the world for you to do. The love of God truly satisfies the human heart like nothing else can.

You were chosen for this love relationship with God. He wants you to know how high and deep and wide his love is, until you are filled to overflowing. His love is like the sun shining in its full strength, far above the clouds and temporary circumstance of this world. His love is constant and unfailing. His love extends to the heavens. It is only the "storm clouds" of this world and your own lack of openness and trust that can hinder you from receiving all the love he has for you.

If you realize that you need God's love and have not been loving Him with all your heart, God's love is very near. If you are truly willing to give your heart to Him, this is a prayer of surrender: "Lord, I confess that I have fallen short of your purposes for my life. I ask for forgiveness, and I ask for the gift of your love. I turn away from my sins and my old life, with all of my heart. I surrender my life to you. I place all of my trust in Jesus Christ, who died for my sins and rose again. I do sincerely ask you to be the Lord of my life and to place your great love in my heart. I will love you and live for you from this time forward." (Continue to talk to the Lord in prayer, until you are sure that you have surrendered you heart and life to him).

Once you have genuinely surrendered your heart and life to Christ, something will begin to happen. As you experience God's love firsthand and come to know the great love He has for you, it will become a natural response to love the Lord your God with all your heart, and soul, and mind, and strength. He will also help you to truly love your neighbor as you love yourself. His love will be poured into your heart, beyond what you could have ever asked or thought.

Knowing that you are deeply loved is what enables you to love God with all your heart. Knowing that you are deeply loved is what enables you to love people freely. Knowing that you are deeply loved enables you to accept and love yourself, as well.

Some other qualities of love are important to address here: First, love "endures all things" (1 Corinthians13:7). If you love the Lord , you will continue your relationship with Him through the good times and the hard times. You can be completely assured that God is faithful, and He will be with you to comfort you and strengthen you in the difficult times. He will lift you up over every obstacle and roadblock that comes into your life. He will cause all things to work together for your good (Romans 8:28). His love for you is constant, powerful, and unfailing, shining like the bright sunlight above the clouds.

Also, if you love the Lord with all your heart you will want to share this love with others. The good news of God's love for us is nothing to hide. After all, if you love someone deeply, you wouldn't be ashamed of that relationship, would you? Especially if you knew that everyone could receive the same love and happiness that you have received through a relationship with Christ.

There are many hurting people in this world. That is why Jesus instructed His disciples to go out into all the world and spread the Good News to every person (Mark 16:15). As you share God's love with those around you and serve them in a spirit of love, the Lord will work through you to bring His transforming love into other people's lives.
M. A. Erickson
__________________________________
Thomas a Kempis on love:
"Nothing is sweeter than love, nothing stronger or higher or wider; nothing is more pleasant, nothing fuller, and nothing better in heaven or on earth, for love is born of God and cannot rest except in God, Who is above all created things. One who is in love flies, runs, and rejoices; he is free, not bound. .... Love often knows no limits but overflows all bounds. Love feels no burden, thinks nothing of troubles, attempts more than it is able, and does not plead impossibility, because it believes that it may and can do all things. For this reason, it is able to do all........ Love is watchful. Sleeping, it does not slumber. Wearied, it is not tired. Pressed, it is not straitened. Alarmed, it is not confused, but like a living flame, a burning torch, it forces its way upward and passes unharmed through every obstacle. If a man loves, he will know the sound of this voice. For this warm affection of soul is a loud voice crying in the ears of God, and it says: "My God, my love, You are completely mine and I am completely Yours. Give me an increase of love, that I may learn to taste with my heart how sweet it is to love, how sweet to be dissolved in love.... Let me be enraptured in love. Let me rise above self in great fervor and wonder. Let me sing the hymn of love, and let me follow You, my Love, to the heights......
Love is swift, sincere, kind, pleasant, and delightful. Love is strong, patient and faithful."
From "The Imitation of Christ" by Thomas a Kempis
*** If you have received Christ, or have comments or questions, please contact us at: erickson5998@sbcglobal.net >> We'd be glad to respond to your comments or questions, or help you find additional information.
You can deepen your relationship with the God of love by talking with Him every day in prayer. You will experience more and more of the love and compassion of God.
You can find out more about God's love, and His purpose for your life, by reading His Word. You can download a free New Testament as a PDF file, at: http://www.mediafire.com/?o1gtbd1thtm

(Download the file, and then save a copy on your computer).
It is important to connect with fellow believers in Jesus Christ, who can help you and support you in your faith. You can go to the following site for further info, and click, "Yes I prayed the prayer" or "I still have questions" at the bottom of the page: http://www.journeyanswers.com/how-to-know-god
May God give you His strength always.
M.A. Erickson
Etching, Top of Page: Hundred Guilder Print, by Rembrandt. Painting Directly Above: Paul Preaching on the Ruins, Giovanni Paolo Pannini, 1744 a.d.