Topical Studies from the Word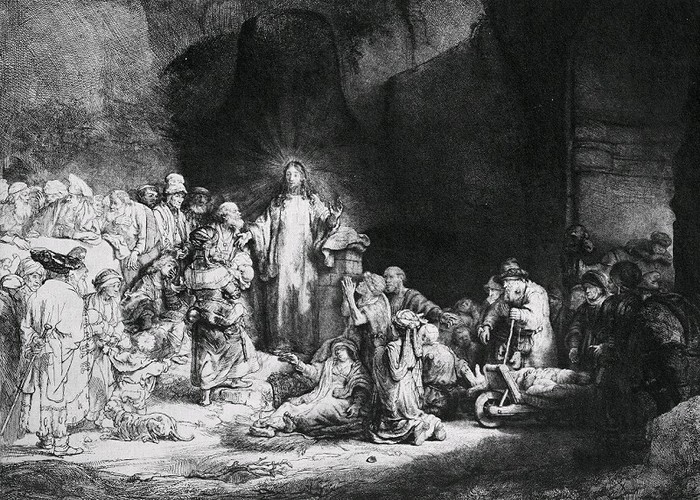 Hundred Guilder Print, by Rembrandt
PRAYER GUIDE

God's Word has important promises for us regarding prayer. As we walk with God in a trusting relationship with Him, we need to rely on what He has said in His Word.

1. ASK, AND GOD WILL ANSWER: Matthew 7:7 Ask, and it will be given to you; seek, and you will find; knock, and it will be opened to you. 8 For everyone who asks receives, and he who seeks finds, and to him who knocks it will be opened.

(Remember that God's answers do not always come in the way or time that we would expect. As someone has said, God's answers include YES, NO, and WAIT. Also remember that prayer must be according to God's will, in order to be answered: "Now this is the confidence that we have in Him, that if we ask anything according to His will, He hears us. 15 And if we know that He hears us, whatever we ask, we know that we have the petitions that we have asked of Him." ( 1 John 5:14,15).


2. ASK, AND HE WILL REWARD YOU OPENLY: Matthew 6:6 But you, when you pray, enter into your inner chamber, and having shut your door, pray to your Father who is in secret, and your Father who sees in secret will reward you openly.




3. ASK FOR THE HOLY SPIRIT, AND YOU WILL RECEIVE:

Luke 11:13 If you then, being evil, know how to give good gifts to your children, how much more will your heavenly Father give the Holy Spirit to those who ask Him? (See Luke 11:9-13).

4. ASK , AND HE WILL GIVE YOU WISDOM: James 1:5 But if any of you lacks wisdom, let him ask of God, who gives to all generously and without reproach, and it will be given to him. But let him ask in faith, without doubting......

5. DRAW NEAR, AND HE WILL GIVE YOU GRACE! Hebrews 4:16 Therefore let us draw near with confidence to the throne of grace, so that we may receive mercy and find grace to help in time of need.

6. DRINK, AND HE WILL SATISFY YOUR THIRST: John 7:37 Now on the last day, the great day of the feast, Jesus stood and cried out, saying, "If anyone is thirsty, let him come to Me and drink. 38 "He who believes in Me, as the Scripture said, 'From his innermost being will flow rivers of living water.'"

7. PRAY IN FAITH: Mark 11:24 Therefore I say to you, all things for which you pray and ask, believe that you have received them, and they will be granted you.

8. CRY OUT TO GOD WHEN IN DANGER, AND HE WILL TURN BACK YOUR ENEMIES: Psalm 56:9 When I cry out to You, Then my enemies will turn back; This I know, because God is for me.

9. CALL OUT ON THE LORD IN DISTRESS, AND HE WILL BRING YOU OUT OF IT! Psalm 50:15 Call upon Me in the day of trouble; I shall rescue you, and you will honor Me.

Psalm 118:5 From my distress I called upon the LORD; The LORD answered me and set me in a large place.

10. PERSEVERE, AND ANSWERS WILL SURELY COME:

Hebrews 10:35 Therefore, do not throw away your confidence, which has a great reward. 36 For you have need of endurance, so that when you have done the will of God, you may receive what was promised. (See also Luke 18:1-8)


11. PRAY FOR UNITY IN THE LOCAL CHURCH:

John 17:21 That they may all be one; even as You, Father, are in Me and I in You, that they also may be in Us, so that the world may believe that You sent Me.


12. PRAY FOR PEOPLE OF ALL BACKGROUNDS: 1 Timothy 2:1 First of all, I encourage you to make petitions, prayers, intercessions, and prayers of thanks for all people...

THE LORD'S PRAYER, AS A GUIDE TO PRAYER

Matthew 6:9-13 "Pray, then, in this way:

1. Pray unto a loving Father: "OUR FATHER WHO IS IN HEAVEN"

2. Pray that His Name may be honored and glorified in the earth: "HALLOWED BE YOUR NAME."

3. Pray that His kingdom reign will come into every situation: "YOUR KINGDOM COME"

4. Pray that His will may be done in each situation: "YOUR WILL BE DONE, ON EARTH AS IT IS IN HEAVEN."

5. Pray for daily provisions, for yourself and others: "GIVE US THIS DAY OUR DAILY BREAD"

6. Ask forgiveness for any sins you have committed, and turn away from them: "AND FORGIVE US OUR TRESPASSES"

7. Forgive anyone who has wronged you: "AS WE FORGIVE THOSE WHO HAVE TRESPASSED AGAINST US."

8. Pray to be kept from temptations, both internal & external: "AND DO NOT LEAD US INTO TEMPTATION"

9. Pray to be delivered from all evil forces: "BUT DELIVER US FROM EVIL"

10. Give God glory, in praise & worship: "FOR YOURS IS THE KINGDOM AND THE POWER AND THE GLORY FOREVER. AMEN"

M. Erickson
/////////////////////////////////////////////////////////////////////////////////////////
STEPS TO A HEALTHY AND USEFUL LIFE
* Jesus, Great Physician, is our Healer!
** The Surrendered Life Is Healthy & Is Christ-centered,
vs self-centered
1. CULTIVATE A GRATEFUL SPIRIT
A. IN EVERYTHING GIVE THANKS / I Thessalonians 5:18
B. SO MANY THINGS TO THANK HIM FOR!
C. THANKFUL = GOD-CENTERED vs SELF CENTER
D. AVOID A CRITICAL, COMPLAINING ATTITUDE
2. DON'T WORRY ABOUT TOMORROW / Matthew 6:34
A. SURRENDER CONTROL OF THE FUTURE
B. WORRY ROBS YOU OF ENJOYING THE PRESENT
3. DON'T HARBOR GRUDGES / LET GO! / Ephesians 4:32
A. AVOID "BLAME GAME" / SPEAK WELL, OR SILENCE
B. FOCUS ON IMPROVING YOURSELF
4. ACCEPT RESPONSIBILITY FOR MAKING RIGHT DECISIONS
A. VINEYARD / Isaiah 5:1-4 / GOD DID EVERYTHING FOR IT!
B. YOU GROW BY TAKING RESPONSIBILITY, ASKING
FORGIVENESS, COMMITMENT TO CHANGE.
C. SELF CAUSES MOST TROUBLE
5. PRAISE & GLORIFY GOD IN ALL SITUATIONS
A. Ephesians 5:18-20 / SPIRIT-FILLED / YOU'LL PRAISE GOD
B. PRAISE GOD AS PART OF RELINQUISHING CONTROL
C. LIFE REVOLVES AROUND GOD: PRAISE HIM!
6. PRACTICE THE SURRENDERED LIFE
A. SURRENDER CONTROL OFTEN, TO GOD: Romans 12:1
B. DON'T CENTER ON PROBLEMS & CIRCUMSTANCES.
C. BREAK OUT OF SELF TRAPS!
7. FOCUS ON MINISTERING TO OTHER PEOPLE! / PROVERBS 11:25
A. PRAY FOR OTHERS: INTERCESSION / Luke 6:38
B. SHARE GOOD NEWS
C. ASK: HOW CAN I PRAY FOR YOU?
CONCLUSION: 1. MAKE SPECIFIC DECISIONS: Take the Steps!
////////////////////////////////////////////////////////////////////////////////////////////////////////////////////////////
THE CHRIST - CENTERED BOOK OF ROMANS
The book of Romans is as truly Christ-centered as Matthew, Mark, Luke, and John. We see this in the fact that Jesus Christ is referred to over 40 times in the book of Romans. In the book of Romans, Paul mentions Jesus five times in the first six verses of chapter one, and he immediately focuses on the resurrection of Jesus Christ from the dead (Rom.1:4). This brings to mind the incredible encounter Paul had with the risen Christ, on the road to Damascus (Acts 9:1-19). Blinded for three days after seeing the risen Christ, Paul was forever changed. This dramatic encounter changed Paul from an enemy of Christ, to His greatest proponent. The book of Romans is the unfolding of the reality of Jesus Christ, from the mind and heart of an incredible scholar and leader, the Apostle Paul.
Read each of these passages in their context in Romans, to understand the full dynamic of how Christ centered the book of Romans really is.
1. Paul, a servant of Jesus Christ / Romans 1:1
2. The gospel is the gospel of God's Son. / Romans 1:2,3,9
3. Jesus was declared to be the Son of God, through His resurrection from the dead. Romans 1:4
4. Through Christ, Paul received grace and apostleship / Romans 1:5
5. You - are called to belong to Jesus Christ. / Romans 1:6
6. God will judge men's secrets through Jesus Christ / Romans 2:16
7. You receive righteousness, through faith in Jesus Christ. / Romans 3:21-22
8. You are justified by his grace as a gift, through the redemption that is in Christ Jesus. / Romans 3:24
9. Jesus is the sacrifice of atonement / Romans 3:25
10. God justifies the one who has faith in Jesus / Romans 3:26, 5:1
11. We have peace with God through our Lord Jesus Christ. / Romans 5:2
12. While we were yet sinners, Christ died for us. / Romans 5:7-8
13. We were reconciled to God by the death of his Son. / Romans 5:10
14. We are saved by His (Christ's) life. / Romans 5:10
15. We rejoice in God through our Lord Jesus Christ. / Romans 5:11
16. The grace of God and the free gift by the grace of that one man Jesus Christ have abounded for many. / Romans 5:15
17. Those who receive the abundance of grace and the free gift of righteousness will reign in life through the one man Jesus Christ. /Romans 5:17
18. We have been baptized into the death of Jesus Christ. / Romans 6:3
19. We were buried with Him. / Romans 6:4
20. We walk in newness of life with Christ / Romans 6:4
21. We will be united with Him in His resurrection. / Romans 6:5
22. "Our old self was crucified with him in order that the body of sin might be brought to nothing, so that we would no longer be enslaved to sin." Romans 6:6 (ESV)
23. We are to reckon ourselves dead to sin, and alive to God in Christ Jesus. / Romans 6:11
24. The gift of God is eternal life in Christ Jesus our Lord. / Romans 6:23
25. We died to the law through the body of Christ. / Romans 7:4
26. There is no condemnation for those who are in Christ Jesus. / Romans 8:1
27. Through Jesus Christ, the law of the Spirit of life has set you free from the law of sin and death. / Romans 8:2
28. Christ is in you... If you do not have the Spirit of Christ, you do not belong to Him. / Romans 8:9,10
29. We are co-heirs with Christ, provided we share in His sufferings, that we may share in His glory. Romans 8:17
30. You are predestined to become conformed to the image of His Son. Romans 8:29
31. "He who did not spare his own Son but gave him up for us all, how will he not also with him graciously give us all things?" Romans 8:31 (ESV)
32. Jesus is at the right hand of the Father, interceding for us. / Romans 8:34
33. "Who shall separate us from the love of Christ? Shall tribulation, or distress, or persecution, or famine, or nakedness, or danger, or sword?" Romans 8:35 (ESV)
34. Nothing in all creation will be able to separate us from the love of God, in Christ Jesus our Lord. Romans 8:38,39
35. "If you confess with your mouth that Jesus is Lord and believe in your heart that God raised him from the dead, you will be saved." Romans 10:9 (ESV)
36. "So faith comes from hearing, and hearing through the word of Christ." Romans 10:17 (ESV)
37. We are one body in Christ, and individually members one of another. Romans 12:4,5
38. Put on ("clothe yourselves with") the Lord Jesus Christ, and make no provision for the flesh, to gratify its desires. Romans 13:14
39. Christ died and returned to life, that He might be the Lord of both the dead and the living. / Romans 14:9
40. "Therefore receive one another, just as Christ also received us, to the glory of God." / Romans 15:7 (NKJV)
41. I will not venture to speak of anything except what Christ has accomplished through me. / Romans 15:18
42. It has always been my ambition to preach the gospel where Christ was not known. / Romans 15:20
43. "I know that when I come to you I will come in the fullness of the blessing of Christ." Romans 15:29 (ESV).
44. Doxology: "Now to him who is able to strengthen you according to my gospel and the preaching of Jesus Christ, according to the revelation of the mystery that was kept secret for long ages 26 but has now been disclosed and through the prophetic writings has been made known to all nations, according to the command of the eternal God, to bring about the obedience of faith-- 27 to the only wise God be glory forevermore through Jesus Christ! Amen." / Romans 16:25-27 (ESV)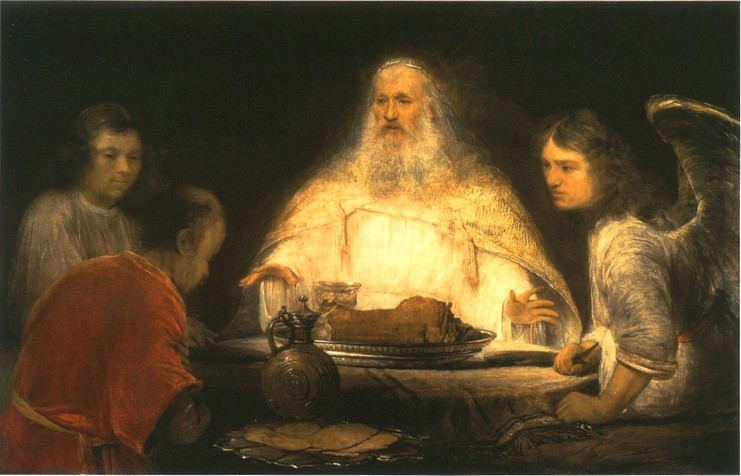 God and the Angels visit Abraham, by Arent De Gelder (1645 - 1727 a.d.)